Message from the Director General
Message from the Director General
2021-12-28 18:06:00
admin

Original

1873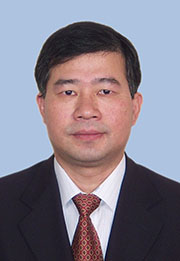 China Foreign Trade Centre (CFTC), a government-sponsored institution affiliated to the Ministry of Commerce of PRC, has an affiliated business entity, China Foreign Trade Centre Group, Ltd. CFTC organizes China Import and Export Fair (also known as the Canton Fair) and other large specialized exhibitions, operates the Canton Fair Complex and National Convention & Exhibition Center (Tianjin), and manages the whole industrial chain of exhibitions. It plays a dominant role in the high-quality development of China's exhibition industry for its professional exhibition experience and service as well as outstanding performance.
Since its inception, CFTC has been committed to reform and innovation, overcoming difficulties and making progress together with the Canton Fair. Established in 1957, the Canton Fair was held for 132 sessions successfully, withstanding various challenges and never been interrupted. It has established trade ties with over 220 countries and regions, enhancing China's trade connections and friendly exchanges with the rest of the world. The CPC Central Committee places great importance on the Canton Fair. President Xi Jinping sent a congratulatory letter to the 130 th Canton Fair. Premier Li Keqiang attended the Opening Ceremony of the 130 th Canton Fair, made a keynote speech, and inspected exhibition halls. Thanks to the support of various parties, the Canton Fair has kept up with the times and spurred innovation constantly. The 127 th Canton Fair was held online for the first time. Themed promoting domestic and international circulations, the 130 th Canton Fair adopted an online-offline merged format for the first time, and successfully held the first national-level Pearl River International Trade Forum. And the 132 nd Canton Fair enlarged the scope of exhibitors and extended the service time of its official website for the first time. The number of exhibitors, products and buyer source countries have all hit a new high, making contribution to coordinating epidemic control and economic and social development, stabilizing foreign trade and foreign investment, and the smooth operation of the global industrial and supply chains.
CFTC has always focused on its main business and strived to grow self-organized brand shows. In 2021, China International Furniture Fair, China International Building & Decoration Fair, and Guangzhou International Automobile Exhibition made constant progress to keep their industry-leading positions. While optimizing existing shows, we've taken a pioneering path and made remarkable progress in innovating our models and nurturing new shows. We've inaugurated China Building Science Conference and Green Intelligent Building Expo in the National Convention & Exhibition Center (Tianjin) successfully, and launched 2021 China Cross-border E-commerce Trade Fair and 2021 International Baby Products & Toys Expo in Guangzhou. With enriched exhibition content, CFTC strengthened its role as the industry leader.
CFTC has been committed to improving its services and to provid e "one-stop" services covering the entire exhibition chain for customers. CFTC has been bettering operation, management and service of the Canton Fair Complex and National Convention & Exhibition Center (Tianjin). The Canton Fair and large self-organized shows serve as the engine for the synergetic development of supporting businesses such as exhibition construction, hotel services, property management, catering, advertising, business travelling, trade services and so on. We've made constant efforts to increase exhibitions' contributions to growing business, and to build an exhibition economy that is based in Guangzhou, relies on the Guangdong-Hong Kong-Macao Greater Bay Area, covers the entire China and reaches out to the world.
Come together as a mighty force for a shared future. The year of 2022 is crucial in the new journey of building a modern socialist country in all aspects and achieving the second centenary goal. It is thus of great significance to ensure the work of the Canton Fair and CFTC proceeds well. Guided by Xi Jinping Thought on Socialism with Chinese Characteristics for a New Era, we will implement the spirit of the 20 th National Congress of the CPC and President Xi's congratulatory letter to the 130 th Canton Fair, and carry forward the great founding spirit of the CPC. We will implement new development concepts in a full and faithful manner, and accelerate the building of the new development paradigm. We will make Party building the greatest political achievement and put high-quality development on top of the agenda. Innovations of the Canton Fair, self-organized shows, venue operation, green development, and the whole industrial chain will be advanced with political building ensured, work conduct improved, mechanism optimized, security guaranteed, and resources increased. This year, we endeavor to achieve higher-quality, more effective and sustainable development to contribute to building China into a modern socialist country in all respects, and advancing the great rejuvenation of the Chinese nation on all fronts.
Chu Shijia,
Secretary of CPC Committee of CFTC, Director General of CFTC
Canton Fair Call Centre

Add: No. 382, Yuejiang Zhong Road, Guangzhou 510335, China

Postcode:510335

Tel: The Chinese Mainland 4000-888-999 Outside the Chinese Mainland (8620)28-888-999

Canton Fair Hong Kong Representative Office

Tel:(852) 2838 3278

Fax:(852) 2838 3169

China Foreign Trade Centre All rights reserved